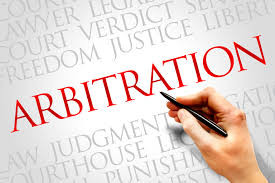 The Central Government is constantly making efforts to reinforce the 'Ease of Doing Business in India' sentiment and to sustain the reputation of India accomplished at international front as one of the favorable nations for foreign investors.
The latest endeavor in this direction is central government's move to ponder over an arbitration Ordinance to facilitate rapid disposal of the commercial disputes of national and international nature and to make arbitrators more accountable/responsible for the arbitration proceedings.
The underlying intent in processing the said Ordinance is to heighten the prospects of India moving up in the index of ease of doing business by establishing an apt arbitration contrivance to speed up the resolution process of the commercial disputes.
Another prospect of the Ordinance is to transform the nation into the land of arbitration for resolution of commercial disputes at national and international front. In the opinion of the central government, there is imminent necessity to build robust arbitration mechanism to handle institutional disputes.
It is proposed to establish an independent regulatory body (Arbitration Council of India) which will be the proficient authority to articulate special arbitration rules and procedures for the ruling of the commercial disputes via arbitration process.
The independent regulatory body will be the instrumental connect in streamlining the arbitration contrivance from grass root level to make certain that the arbitration process is more applicants friendly, cost-effective and ensure timely disposal of arbitration cases.
The arbitration rules and procedures are vital in establishing arbitration norms to be deployed in arbitration process and guidelines for grading the arbitration institutions and monitoring the quality and performance of arbitration proceedings.
Experts have been voiced their opinion for long that the arbitration process in India won't pick pace unless India had a strong and dedicated arbitration regulatory mechanism.
Indian courts are saddled up with the burden of 30 million pending cases. This reflects the latitude and magnitude of the burden of pending cases on courts. Due to the lack of an effective arbitration regulatory mechanism, major chunk of arbitration proceedings are performed outside India in cities such as Singapore, London, and Paris.
The proposed Ordinance is thus driven by the Central Government's objective to encourage more people to prefer the arbitration process as mode of dispute resolution system in place of the traditional litigation process to tenacity the commercial disputes.
The aspect of educating the public about the eminence of the arbitration in the dispute resolution process will play a vital role in strengthening the arbitration contrivance in the nation.
The prospect of transforming the nation into the hub of arbitration for resolution of national and international commercial disputes will be accomplished with effective implementation of the proposed measures – this proposition will augur well in reducing, if not eliminating the menace of huge pendency in Indian courts.